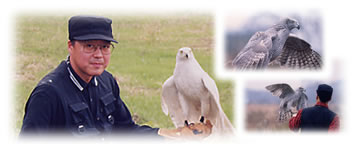 Now in Japan several groups of falconers and fancier of folconry are constructed.
This association have been continuing a exchange not only with Japan's association but also with foreigner's.
And there are many members who don't have falcons.
Please take a look at the aim of activities.
NON-PROFIT ORGANIZATION THE JAPAN FALCONERS ASSOCIATION
PRESIDENT Fumio Ozaku.
About J.F.A.
J.F.A is certified as an N.P.O..
Our organization is registered the trade mark J.F.A and permitted by Patent Office.